Farmers Forum: agriculture deserves more than occasional minister
Farmers Forum Editor Patrick Meagher has a few thoughts on Kathleen Wynne's dual role as Premier and Minister of Agriculture. Somebody is getting the short end of the stick, he says, and guess who might that be (again)? Rural Ontario…
Here is his editorial from today's edition of the paper.
When you're passionate about something, you commit time to it. You'll even spend your off-time mining for ideas, using a drive-home or late-night quiet time to form a vision. But does anyone think our Minister of Agriculture Kathleen Wynne sits up at night wondering what great ideas she can bring to farming? How can she? She's not only part-time, but her bigger portfolio is running the province as premier. And now she has decided she will also be the Minister for Intergovernmental Affairs.
Maybe she should be called the "occasional" Minister of Agriculture.
This wouldn't be so embarrassing if she were spending time on these portfolios. But in the last two months, she has expended an abundance of energy on photo-ops, campaigning for by-elections, and dodging the gas plant scandal.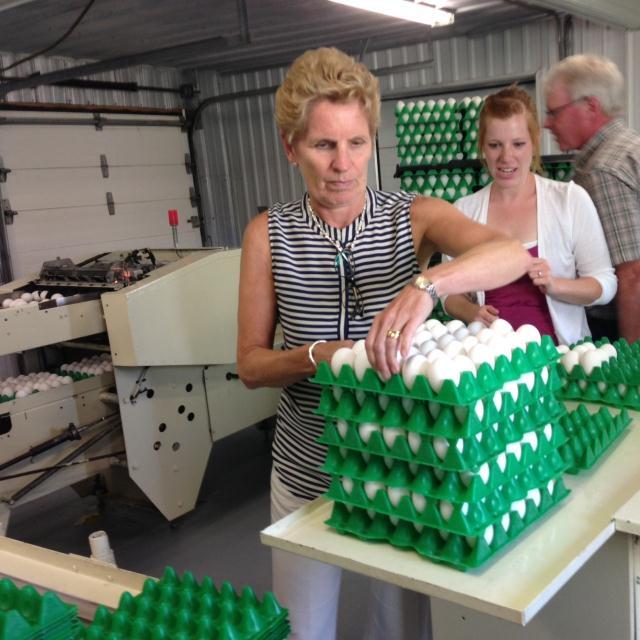 So she's not only the occasional minister of two portfolios–did I mention she's also the premier–she has a huge and growinf cancer on her watch.
A paper trail has confirmed that Wynne was in the know about cancelling a gas plant to save a Liberal seat in the 2011 election. She was the co-chair of the Liberal campaign for re-election and the Liberal campaign agreed to the cancellation. So she is guilty of agreeing to squander millions. Perhaps she didn't know how much at the time but the total is about $300 million*. It would take the average Canadian about 6,300 years to pay that back, if every penny of each year's earnings were not spent on anything else.
Wynne has apologized for the past but is having a hard time moving on, partly because, contrary to the rules of government, Liberal government officials deleted thousands of e-mails.
Then suddenly in late July, an amazing 3,226 lost e-mails from 11 Liberal staffers and politicians, including 1,233 of Wynne's e-mails, resurfaced on backup tapes. It will take some time to extract the evidence, but it certainly looks like a smoking gun.
Maybe these new e-mails will exonerate Wynne and she indeed can get on with actual governing, although that's usually why e-mails disappear in the first place.
As this ugly plot thickens, and the trickle of damning e-mails and internal documents turns into a river of evidence, it is becoming more and more clear the ship is foundering. Dalton McGuinty** fled before everything hit the fan and Wynne's future seems more uncertain than ever. Did I call her an occasional minister? Might have to make that "occasional" and "temporary."
Even as it stands, with Wynne walking under a cloud, agriculture deserves better than minsiterial flyovers and brief acts of presence.
Contact: news@farmersforum.com
*editor's note: the cost is estimated at $585 million, for ONE gas plant; the Auditor General's report is due August 21st on the other cancelled plant
** editor's note: Mr McGuinty is now a "fellow" at Harvard University