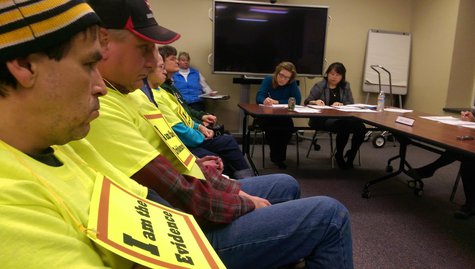 Residents at Board of Health meeting January 12 [Photo Jeff Flynt]
"You are now part of the problem"
WTAQ, January 13, 2016
GREEN BAY, WI (WTAQ) – Residents in southern Brown County upset with last month's decision by the county's health director not to order a shutdown of the Shirley Wind Farm spoke out during a meeting Tuesday evening.
The Brown County Board of Health put room on its agenda to allow for follow up to Health Director Chua Xiong's call not to formally classify the turbines in Morrison and Glenmore as a public health hazard.
"Please help us, this is serious business," said one of the approximately 40 people attending the meeting solely to urge Xiong to change her mind.
"You are now part of the problem," said another resident.
Ben Schauer is an Army veteran who lives in Denmark near the Shirley Wind Farm.
"I'm imploring all of you, fight for me, fight for my family as hard as I've spent 22 years fighting for this country and your rights to sit there," said Schauer, who was accompanied by his wife and sons who told the board their personal illnesses they say are from the wind turbines.
Xiong was largely silent during the meeting, while some board members backed her conclusion that insufficient evidence links turbines to illnesses suffered by residents.
COUNTY SUPERVISOR GOES AFTER XIONG
Among the attendees Tuesday was Brown County Supervisor Patrick Evans. He was one of the several who spoke during the public forum on the Shirley Wind Farm.
"It's almost borderline on misconduct in public office, it's almost criminal," Evans said, directing his remarks toward Xiong's announcement during the December 15 meeting. "I don't like it that she comes out and tells the people yes I know you're not crazy and there's a problem, but then doesn't do anything to help them."
In 2014, the Brown County Board of Health declared that turbines do emit low-frequency noise which can endanger health. But it is Xiong who holds the power to order a shutdown of those turbines in the southern part of the county.
"She has to make a decision based on the best available evidence she has," said board member and Brown County Supervisor Richard Schadewald, who echoed fellow board member Karen Sanchez in saying there is no "direct causality" shown.
NEXT MOVE?
Talk during the public feedback portion of the meeting ranged from performing more studies, to courses of action in a potential lawsuit to whether or not the Board could do anything moving forward.
But for many of the residents impacted by the daily issue of wind turbines, time is running out.
"If this was happening in Allouez or the City of De Pere, you'd be on this in a flash, because people getting this sick this fast, you'd do something about it," said one woman.
"We cannot wait any longer," said Steve Deslauriers. "Holding off for future study, the process at the state level is corrupt enough that it will likely turn out that we get a response like we did last month."
Evans, who chairs the Brown County Human Services Committee, says at their January 27 meeting that Xiong will speak.
"She hasn't taken the science to say why I've made this decision," Evans said. "I would hope that we would hear some explanation from her, I think she's probably working on it right now instead of before."
Evans added he doesn't expect Xiong to change her mind and that while he supports her background, in his view, she's dropped the ball on this decision.
Xiong was unavailable for comment after the meeting.
What's your reaction?
0
Cool
0
Upset
0
Love
0
Lol