A plane hitting a turbine or being blown off course would meet [the test] for serious harm to human health, says lawyer
Simcoe.com February 18, 2016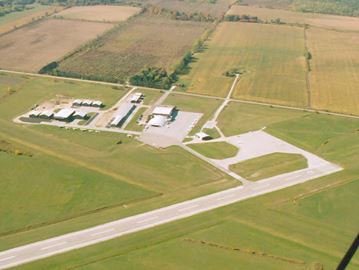 Collingwood Regional Airport: an appeal will cost more than $100,000
The Town of Collingwood will be appealing the province's decision to approve a wind farm south of Stayner near the Collingwood Regional Airport.
In a unanimous decision on Thursday evening, council instructed its legal counsel to draft and file a notice of appeal of the decision to the Environmental Review Tribunal. Last week, the province approved WPD Canada's plan to construct and operate eight turbines west of Stayner.
Council received a presentation from its lawyer, Richard Butler of Willms & Shier. He said of the 199 renewable energy projects in Ontario, only two have been rejected. He said 120 have been appealed and only two have been overturned.
"The vast majority of appeals are either abandoned or unsuccessful," he said.
The Environmental Review Tribunal is an arm's length body that has the authority to confirm, amend or revoke a decision. He said appeals must be based on two criteria: the decision will cause serious harm to human health, or cause serious and irreversible harm to plant life, animal life or the natural environment.
"I think applications and approvals really speak to the uphill battle that opponents of wind projects face," he said.
Butler said Collingwood would likely be appealing on the basis the turbines would cause harm to human health.
"A plane hitting or blown off course would meet serious harm to human health," he said.
Butler said the municipality would likely need a risk assessment completed, which would determine the likelihood of a plane hitting a turbine. He said this could be done within a matter of weeks.
The town would need to prove "more likely or not, during the lifetime of the turbines, there would be a collision."
Read the full story here.
What's your reaction?
0
Cool
0
Upset
0
Love
0
Lol