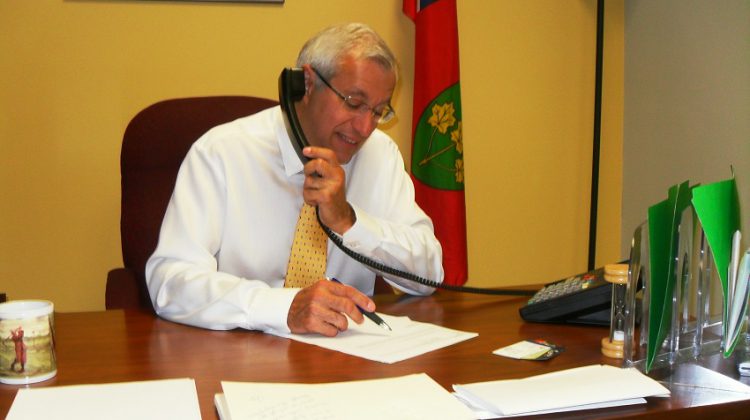 [Photo: MyWestNipissing]
August 20, 2019
Many people will have missed this interview with MPP Vic Fedeli, as it was published in the West Nipissing community newspaper, but the comments from Mr. Fedeli on a recent report from the Fraser Institute are definitely worth a look.
Especially this week, as the wind power industry trade association and lobbyist CanWEA is in Ottawa, trying to persuade Ontario municipalities that wind power is a cost-effective way to generate electrical power that also brings jobs and prosperity to communities.
Not so, says former finance minister and nor Minister of Economic Development, Job Creation and Trade for Ontario. Wind and solar are among the most expensive ways to generate electricity, he told My West Nipissing News.
Wind power contracts were a waste of money because they produced power that Ontario didn't need, and the surplus power is sold off, often at a loss, to competing jurisdictions in the U.S., Fedeli said. "We make about 30,000 megawatts of power a day but only need about 20,000," Fedeli said. "So we end up paying the United States and Quebec every single night to take our surplus power.  And it's billions of dollars every year that we're paying those competitors of ours."
Referring to a recent Auditor General's report, Fedeli says the AG identified that the solar and wind projects of the previous government resulted in "spending $37-billion in wasted money". He added that former Premiers Dalton McGuinty and Kathleen Wynne pursued the wind and solar projects solely for ideological reasons and photo ops.
"The Auditor-General has proven it certainly wasn't anything in terms of bringing relief for families," Fedeli said.
The Fraser Institute report  noted that solar and wind are intended to displace emission-producing forms of power generation, but also that many provinces in Canada get much of their power from nuclear plants or hydroelectric dams, neither of which energy sources produce greenhouse gas emissions.
Fedeli said Ontario gets 60 percent of its power from nuclear and additional power from its huge hydroelectric projects like Niagara Falls.
"We have clean energy from water and nuclear," he said.
What Mr. Fedeli didn't mention in referring to the Auditor General reports over the last 15 years was that the former McGuinty and Wynne governments never did any kind of cost-benefit or impact analysis for their wind power program which was essentially forced industrialization for rural communities. Impacts such as environmental noise leading to health problems and property value loss were never examined. The report from the Fraser Institute alleges the wind power lobby purposely ignores the consequences of wind power development, and the operation of wind power facilities.


What's your reaction?
0
Cool
0
Upset
0
Love
0
Lol